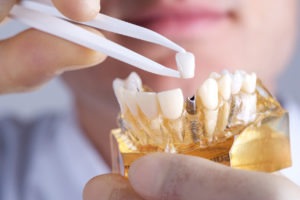 According to the Centers for Disease Control and Prevention, 47.2% of American adults have periodontal disease—one of the biggest threats to patient's teeth. Periodontal disease (advanced gum disease) is the leading chronic disease for tooth loss, and in some cases patients can't help but run into this problem thanks to their genetic makeup. In most cases, periodontal disease is developed from lack of diligent dental hygiene, but some patients have regulatory genes that correlate with advanced gum disease.
If you're facing tooth loss for this reason, or any other for that matter, you should start mulling over the idea of replacing them. Trust our team of experts at Integrity Dental, dental implants in Farmington are the best way to preserve your smile and your overall health.
Disadvantages of Lost Teeth
Ask anyone, losing your teeth is a real drag. Not only will your facial appearance be affected, most likely bringing down your self-confidence, but your overall health will decline as well. Your teeth are designed to work together—all of them. Your teeth work hand in hand to help you eat, speak, and smile with assurance. If you ignore the gaps in your smile you may be exposing your body to these disadvantages:
Moving or shifting of teeth in your smile that can lead to TMJ disorder or a misaligned bite.
Higher risk of getting gum disease or further advancing your gum disease.
Malnutrition since you can't enjoy the healthy crunchy substances your body needs like raw vegetables.
Your jawbone will deteriorate because it's not getting enough stimulation from chewing, becoming more and more unhealthy and unsupportive of the rest of your teeth.
Dental Implants: The Superman of Tooth Replacements
If you're looking for a tooth replacement option that can do it all, you're looking in the right place. Dental implants work to save your smile in every way possible. Rather than traditional replacement options like dentures or bridges, dental implants will replace both components of your teeth—not just the visible portion. Your tooth root, the "invisible" part of your tooth that lies beneath the gum line, stimulates your jawbone and keeps it healthy. Without a lively tooth root, patients experience bone deterioration over time, leading to an increased risk of additional tooth loss or a sunken facial appearance. Thankfully, dental implants replicate the entire structure of a tooth, preserving and encouraging the growth of new bone tissue. Dental implants can help to save your smile from root to crown.
Placing Dental Implants with Integrity Dental
When you need a restorative and cosmetically pleasing tooth replacement, you should consider getting dental implants with Dr. James Cole of Integrity Dental. To begin your implant journey, you will first need to contact our office to schedule a consultation. After careful consideration of our overall health, we can move forward with starting the process of replacing missing teeth. Dental implants are placed and in just two stages.
In the first, one or more implant posts are surgically placed in the jaw. During your healing period, your implants will fuse together with your jawbone in a process known as osseointegration. Allowing adequate time for osseointegration to occur is the key to a successful implant procedure.
Then, you'll visit our office for your final appointment to have your dental prosthetic anchored in place. Dental implants can be used to replace a single tooth to a full upper or lower row of teeth! Get started fixing your smile today.