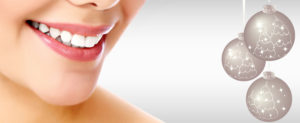 It's hard to believe that 2018 is nearly over and the holidays are upon us! And while you'll certainly be busy with cooking, shopping, and decorating over the next few months, you're also bound to be extra social as well. Office parties, family functions and get-togethers with friends are just some of the events you can look forward to. And with all the photographs being taken, it's no wonder that so many people want their smile to look it's best. Keep reading to learn about several of the most common procedures a cosmetic dentist in Farmington can use to help your smile shine this holiday season!
Cosmetic Bonding
The same tooth-colored filling material that's used for fillings on back teeth can also be used cosmetically on the front teeth. Done in just one visit, cosmetic bonding is perfect for masking imperfections such as cracks, stains and small chips. Best of all, it's non-invasive because it doesn't require removing any enamel from your teeth.
Porcelain Veneers
Veneers are strong, wafer-thin "shells" that are adhered to the front of the teeth to give them a whole new appearance. They're perfect for covering each of the following flaws:
Minor gaps and crowding
Chips and cracks
Severe stains that don't respond well to traditional whitening treatments
Small or oddly shaped teeth
You'll also be glad to know that veneers last an average of 10-20 years with basic care and maintenance.
Teeth Whitening
Whitening is one of the most common cosmetic procedures because it's simple, fast, and offers great results. If you'd like to brighten your smile for the holidays, you have two main choices, both of which will whiten your teeth up to 7 shades:
Take-Home Whitening – With this option, you'll receive custom-made trays and a professional-strength whitening gel to use at home each day until you reach your desired shade (usually around two weeks for most patients). This is an ideal choice for people who want to whiten their teeth more gradually.
In-Office Whitening – This option is excellent for patients who have a holiday event right around the corner and want to see their results immediately. Done in just one appointment that takes 1-2 hours, a whitening solution is applied to the teeth before exposing them to a special light that accelerates the process.
What's the Next Step Towards Having a Great Holiday Smile?
Every patient has a unique set of needs and goals, so the first step towards achieving a beautiful holiday smile is to schedule a consultation with a dentist in Farmington who offers a variety of cosmetic procedures.
After discussing the results you'd like, they'll evaluate your dental history and overall oral health so they can make the best recommendations for you.
From Thanksgiving through New Year's, you'll be seeing friends and family, attending holiday parties and having endless pictures taken. And with one of these cosmetic dental procedures, you can make sure your smile looks its best!
About the Author
Dr. James Cole is a general, restorative and cosmetic dentist in Farmington who loves helping people achieve great oral health and beautiful smiles. He knows that the holidays are a time of year when everyone wants to look their best, and he works closely with each patient to recommend the procedures that will serve them best. If you'd like to improve your smile before the holidays and have any other questions, he can be reached via his website or at (505) 327-0441.