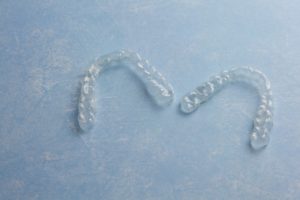 There's a reason that over 6,000,000 people have chosen Invisalign, and it's not all because they simply wanted a straighter smile. Whether you want to fix a few crooked teeth, gaps, or align your bite, Invisalign treatment can be the solution to a laundry list of problems. Crooked teeth can cause multiple dental issues like difficulty brushing and flossing, speech impediments, and even problems chewing. Whether you want to love your smile more than you do at the moment, or value function over form, Invisalign in Farmington offers you ways to improve both. Read on to learn about 5 ways getting Invisalign aligners can benefit you besides just offering you a straighter grin.
Improved Bite
Invisalign can fix overbite, underbite, and crossbite in some cases. For overbite, it can be used to alter your teeth's position so your top and bottom teeth come together properly when your mouth is closed. For underbite, it can be used to move your lower teeth so they rest naturally behind your front teeth. And lastly, for crossbite, it can move your teeth to the proper place to help avoid unnecessary wear-and-tear on your teeth and gums.
Better Chewing
Leaving bite problems unfixed can cause additional issues such as difficulty chewing. Invisalign aligners weren't created to simply offer you a pretty smile. They can also restore your bite by realigning your teeth so you don't experience difficulty chewing because of TMD.
Fix Facial, Jaw, and Neck Pain
People that are experiencing pain or sore facial muscles can benefit from Invisalign treatment. Oftentimes, this can be a result of grinding and clenching your teeth at night. This bad habit can have detrimental effects on your oral health such as bone and tooth loss. Because grinding can be caused by misaligned teeth, Invisalign aligners can help tackle the underlying reason for this destructive habit and protect your oral health. Waking up with a stiff neck and jaw pain can affect your day-to-day, so let Invisalign work its magic.
Improved Speech
When your teeth and jaw begin to become aligned, it can improve your speech and pronunciation. The position of your teeth plays a large role in how you're able to form words. The more severely they're misaligned, the more pronounced your impediment may be. So, Invisalign may be the answer you've been waiting for to get rid of that slight lisp.
Easier-to-Clean Teeth
When your teeth start to become more aligned, it makes your mouth easier to clean. Instead of struggling to brush in-between the crevices of your crooked teeth, your straightened smile will make a trouble-free brush and floss. Food debris and plaque can get trapped in hard-to-reach places, causing bacteria buildup and decay. Prevent this by straightening out those nooks and crannies and creating a simple smile to maintain.
Invisalign is a popular treatment option for so many people because it offers benefits besides a simply straighter smile. More adults than ever are taking their oral health and smile into their hands by scheduling consultation appointments to see how Invisalign can help them. You can enjoy all the benefits this treatment has to offer without the restrictions of other teeth-straightening methods. Enjoy a worry-free and healthy smile by investing in Invisalign.
About the Author
Dr. James Cole offers the community of Farmington decades of dental experience. As a member of prestigious groups such as the Academy of General Dentistry and American College of Dentists, he's able to keep up-to-date on the most advanced technology and treatments so he can better serve his patients. He's passionate about sculpting healthy bright smiles and giving his patients the confidence they deserve. For any questions or to schedule am Invisalign consultation appointment, visit Integrity Dental's website or contact 505-327-0441.