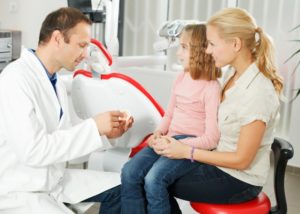 It's already mid-June and summer is flying by! Before you know it, it'll be back-to-school season and you'll be fighting with the busy traffic from everyone trying to get school supplies, new clothes, and their health checkups completed. Scheduling your entire family's routine examinations and cleanings with your dentist in Farmington while your schedule is less busy can reduce your stress later on in the year. Read on for 4 reasons to schedule all of your loved ones' appointments today!
Detect Oral Cancer Early
You may not have noticed, but every time you visit your dentist, they'll conduct an oral cancer screening. By routinely examining your oral tissues for any symptoms of this deadly disease, your dentist can catch it early while there's a better chance of successfully treating it. Because oral cancer progresses so quickly and is often left undiagnosed, it makes it even more vital to visit them every six months.
Tackle Gum Disease Before It's Too Late
Gum disease impacts one out of every two American adults. When plaque and tartar are left to accumulate, they can infect your gums and cause them to become irritated, inflamed, and bleed when you brush and floss. When untreated, this condition can wreak serious havoc on your oral health and result in receding gums and even tooth loss.
When it's caught in its early stages, your dentist can treat and reverse the symptoms. But, when it progresses, it becomes incurable and they can just temporarily relieve your discomfort with frequent gum disease treatments and cleanings.
Find Problems Hidden Under the Surface
Depending on your age and your oral health history, your dentist may frequently give you X-rays to spot problems that aren't visible to the naked eye. Some serious issues can be brewing, and you may not even notice because they don't exhibit any symptoms. By getting regular digital X-rays, your professional can spot destructive diseases and conditions such as jawbone deterioration, dental decay, swelling, cysts, and even tumors. All of these are critical to treat as soon as possible so they don't impact your overall wellbeing.
Control Bad Oral Habits
Do you chew ice? Smoke cigarettes? Regularly use your teeth to open packages? You may not know that all of these habits can cause unnecessary wear-and-tear on your teeth and oral health problems down the road. When you visit your dentist, they're able to keep you educated on how your bad oral habits are negatively impacting your mouth, and what that could mean for your future dental health.
Being informed can help you make the necessary changes to your lifestyle to prevent more damage. Your dentist can also provide you with the treatment you need to repair the damage that has already been done to keep your mouth in tip-top shape.
Routine checkups and cleanings can be easy to put on the backburner, especially if you're busy with getting ready for back-to-school season. Scheduling your visit before your schedule gets jammed packed is the best way to get the peace of mind you need that your family is healthy and happy!
About the Author
Dr. James Cole has been providing families in his community with improved oral hygiene since graduating in 1990. He values getting to know each of his patients and giving his small patients the knowledge and treatment they need to maintain happy and healthy smiles into adulthood. As an active member of several professional organizations, he strives to keep up to date with the latest advancements in his field so he can provide high-quality care his patients deserve. For questions or to schedule a routine checkup and cleaning, visit Integrity Dental's website or contact 505-327-0441.