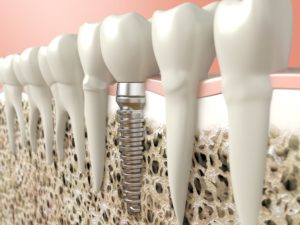 If you've lost one or more teeth, you've heard about the benefits of dental implants. They've quickly become the preferred solution to replace missing teeth because they replicate the entire structure of a tooth. This allows them to provide over a 95% success rate to last for several decades. Their long-term viability relies on your jawbone supporting the posts and remaining infection-free. To ensure your new smile has the foundation it needs to thrive, your dentist will check to ensure you have adequate bone density needed for implants. If you've lost bone, don't worry. You can become a candidate for dental implants with bone grafting.

Am I Suffering from Bone Loss?
Your teeth are important for more than just a beautiful smile and chewing. They also keep your jawbone strong. When even a single tooth is lost, serious complications begin brewing beneath the surface of your gum tissue.
Your jawbone is not being stimulated by the root where you lost a tooth, so it slowly deteriorates. Within the first year of losing your tooth, you can lose as much as 25% of your jaw's width. Over the next few years, your jaw will continue to shrink in width and height. Eventually, you may no longer have enough bone to support dental implants.
Can I Have Dental Implants with Bone Loss?
During your initial consultation, your dentist will take a CT scan of your oral structures to evaluate your bone density. Based on the results of the scan, they may determine you need additional treatments before having your dental implants placed, like bone grafting or a sinus lift.
Can Dental Implants Stop Bone Loss?
A dental implant is made of titanium and designed to replicate the root of your tooth. When it's surgically placed within the jaw, it stimulates new bone growth. This preserves your jaw's density while also allowing your bone to fuse to the post through a process called osseointegration. It will take several weeks for your jaw to heal, but afterward, your dental implant will have the sturdy foundation it needs to potentially remain in place forever with the right aftercare.
Once your jaw is fused to the post, you're fitted with your restoration, which is connected to the post via an abutment. You'll never need to worry about any slipping or irritation to enjoy the next best thing to what nature gave you.
Preserve Your Smile Today!
The longer you wait to replace your missing teeth with dental implants, the more bone you'll lose. Even if your jaw's density is compromised, you can still choose dental implants to rebuild your smile. Your dentist will create the customized treatment plan you need to ensure your new smile thrives.
About Dr. James Cole
Dr. James Cole not only earned his Doctor of Dental Surgery, but he is also a member of the prestigious group called the American College of Dentists. He's also served various dental organizations due to his excellence in dentistry. Dr. Cole is supported by advanced training and qualifications in many specialty treatments, including dental implants. If you're ready to replace your missing teeth, contact our office today to schedule your consultation.